What Does Real Property Law Entail?
Real property law deals with the acquisition and ownership interests of land and buildings. It is very broad and includes both drafting the agreement and other documents to facilitate the deal (this is often referred to as "real estate transactional"), as well as filing a lawsuit if someone breached to the agreement (this is often referred to as "real estate litigation"). At Relief Lawyers, we practice real estate litigation, and provide legal advice on how to avoid getting involved with litigation. The attorneys at Homeowner Relief Lawyers have been involved with resolving real estate disputes in Nevada since 2001. We have been here through the real estate ups and downs, and have seen it all. From all of these years of experience in the volatile Las Vegas real estate market, we have mastered the craft of real estate litigation.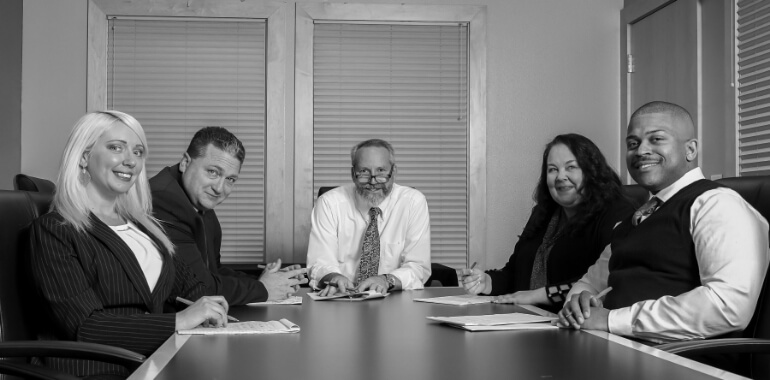 We represent anybody who finds themselves with a dispute involving real estate. This includes: Owners, Buyers, Sellers, Landlords, Tenants, Investors, Real Estate Agents, Real Estate Brokers, Real Estate Brokerages, Contractors, Co-Owners, Developers, Speculators, Partners, Joint Venturers, Builders, Those Facing Eviction, Those Facing Foreclosure, Lease Optionees, and Lease Optioners.
Most Common Causes of Action:
"An action for quiet title is an equitable proceeding in which a party seeks to settle a dispute over ownership of property or to remove a cloud upon her title to the property." Kimura v. Decision One Mortgage Company LLC, Case No. 2:09-cv-01970-GMN-PAL (Dist. Court, D. Nevada 2011).
NRS 40.010 provides statutory support for a quiet title action and states:
An action may be brought by any person against another who claims an estate or interest in real property, adverse to the person bringing the action, for the purpose of determining such adverse claim.
A quiet title action can be brought by someone, whether or now that person is in possession of the property, and can be maintained under NRS Chapter 40 or under the "court's inherent equitable jurisdiction to settle title disputes." Shadow Wood HOA v. NY Community Bancorp, 366 P. 3d 1105, 1109 (Nev: Supreme Court 2016), citing to Low v. Staples, 2 Nev. 209, 211 (1866).
2.    Specific Performance of the Purchase Agreement:
Specific Performance is used by the buyer of real property in order to force the seller to sell the property if the seller tries to back out of the agreement.
Basic contract principles are required for a contract to be enforceable: an offer and acceptance, a meeting of the minds as to the essential terms, and consideration. May v. Anderson, 119 P. 3d 1254, 1257 (Nev: Supreme Court 2005). The following minimum requirements are necessary for enforcement of a written real estate purchase agreements: 1) a written document or memorandum, 2) signed by the party to be charged or by his agent, 3) a statement naming the parties to the contract, 4) a statement describing land and other subject matter, 5) a recitation of the consideration, and 6) a statement describing the terms and conditions of all the promises constituting the contract. Wiley v. Cook, 583 P. 2d 1076, 1079 (Nev: Supreme Court 1978), citing to Restatement of Contracts, § 207; see also, NRS 111.210; Harmon v. Tanner Motor Tours, 377 P. 2d 622 (Nev: Supreme Court 1963)(The contract must be reasonably certain as to its subject matter, its stipulations, its purposes, its parties and thecircumstances under which it was made.)
Specific performance is available when: (1) the terms of the contract are definite and certain; (2) the remedy at law is inadequate; (3) the plaintiff has tendered performance; and (4) the court is willing to order it. Mayfield v. Koroghli, 184 P. 3d 362, 367 (Nev: Supreme Court 2008), citing: Serpa v. Darling, 107 Nev. 299, 305, 810 P.2d 778, 782 (1991).
Even if a purchaser of real property has not yet tendered the purchase price, the district court may still grant specific performance if the purchaser can "demonstrate that she is ready, willing, and able to perform." Mayfield v. Koroghli, 184 P. 3d 362, 368 (Nev: Supreme Court 2008). "The decision to either grant or refuse specific performance is addressed to the sound discretion of the trial court and will not be disturbed on appeal unless an abuse of discretion is shown." Serpa v. Darling, 810 P. 2d 778, 782 (Nev: Supreme Court 1991), quoting McCann v. Paul, 90 Nev. 102, 103-104, 520 P.2d 610, 611 (1974).
Most standard real estate purchase agreements contain language in them which expressly allows the buyer to sue the seller for specific performance (even without first going to mediation). The standard GLVAR real estate purchase agreement contains said language in paragraph 18(B), on page 6.
Contact Relief Lawyers for a Real Estate Law Consultation
Our office is located in the shadow of Lone Mountain, in the Northwest corner of Las Vegas.  For decades we have lived in, worked in, and even invested in the real estate community we serve today.
Ready to Get Consultation For Cases
Choose Relief Lawyers, Choose The Best Relief For Yourself